Best Daily Contact Lenses for Dry Eye – Acuvue Oasys 1-Day
Originally released in 2015, this lens has been an absolute hit in our Denver contact lens practice. We have made a point of fitting it on all of our patients who experience dry eye with contact lens wear. Many of whom spend tireless hours in front of a computer, six to seven days per week. In our experience the Acuvue Oasys 1-Day blows away the competition. Many patients describe this contact lens as "the most comfortable contact lens I have every worn", and state "I can't even tell it's on my eye."
The Technology
This lens is a culmination of research put forth by Acuvue, a Johnson & Johnson company, to produce the most comfortable contact lens on the market. Based on our patient's experience, they have succeeded. Utilizing Hydraluxe technology, a proprietary lens component designed to interact optimally with the tear film, the Acuvue Oasys 1-Day has been able to provide a large number of our patient base with an extended and improved daily contact lens wear experience.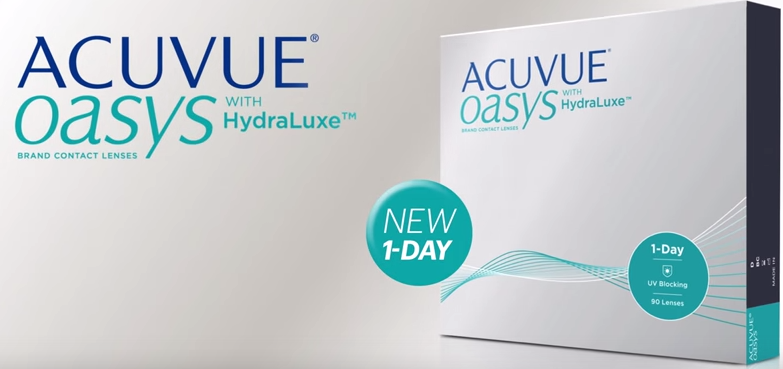 Offering UV Protection
The Acuvue Oasys 1-Day lens continues Acuvue's tradition as an industry leader in UV protection for your eye. The UV-blocking component of this lens stops 90% of UV-A and 99% of UV-B radiation, providing additional protection to your cornea, lens and internal ocular anatomy from the harmful effects of high energy radiation.
How do I get the Acuvue Oasys 1-Day?
Schedule a contact lens exam online, or call our office at 303-844-3937 to schedule an appointment.