Invoking Muses: The Collaborative Designs of Barton Perreira
One look at the names in any Barton Perreira collection and you'll find a pair of optical frames or sunglasses inspired by an iconic star of the past or present. The "Ava" of course was inspired by Ava Gardener, the aviator-styled Truman– inspired not by Capote but Harry Truman, and the "Bouvier," which evoke the timeless elegance and class of Jackie O.
No longer content to be inspired from afar, since 2012 the Perreira duo has began collaborating with stars and Hollywood personalities like Chloë Sevigny, Giovanni Ribisi, and famous Hollywood tattoo artist, Mr. Cartoon.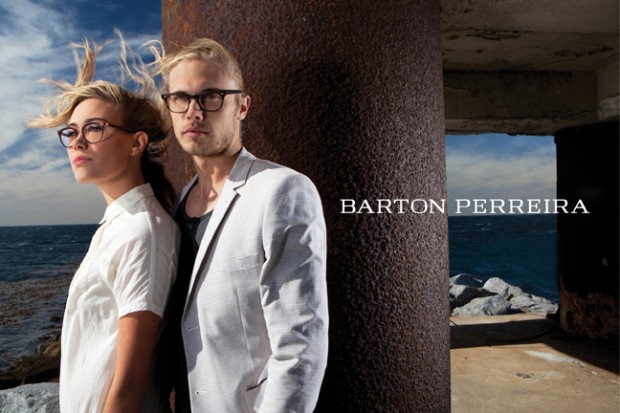 A Hidden Gem
Mr. Cartoon shares with Barton and Patty Perreira a love of low-rider chic, iconic cars of the past, and, of course, sunglasses. For the pairs inspired by him, Mr. Cartoon said he wanted frames that were, in his words, "original, strong, a standout from the rest — and the darker the better."  Of his desire to work with the famous tattoo artist, Barton explained "I am a huge fan of Mister Cartoon . . . I love his unique style and how he is mad about details just like I am . . . Somehow I feel a sort of design affinity towards him and I wanted to bring his magical touch to a sunglass design."  This unique pair of sunglasses has a highly unusual feature–a spider web logo that appears on the lenses when you breathe on them.  These glasses evoke a spirit of rebellion and daring–and only 400 pairs were made that are now sought avidly by collectors.
Candy Darling
Perreira and Chloë Sevigny teamed up to create a line inspired by Candy Darling, the famous drag queen member of the Warhol entourage who was famous for "little girl-lost" acting roles and a practiced pout. These glasses, with heart shapes in the middle and bright blue jewel-toned lenses or rose-colored lenses, are avant garde with a definite wink.
Collaboration with Giovanni Ribisi
Giovanni Ribisi was not content just to be the model and muse for the designs he inspired–The Giovanni and The Ribisi–he wanted to help craft the glasses himself and actually created the 3D designs for the collection. Ribisi stated, "When Barton Perreira approached me about designing these frames, it was something I jumped on . . . Sunglasses are intimate, especially to one's individual identity because they sit on the face. It was challenging and I learned a lot, but it was an honor to work with the Barton Perreira team and a company that strives to create excellent product."
Inspiration for the Spring/Summer 2014 Line
Their most recent 2014 Spring/Summer line was inspired by another Warholian, actress Barbara Feldon, and a print Warhol did of her that Patty owns in her collection. Some of the men's frames were inspired by bad-boy icons of film such as James Dean and Jimmy Cliff's character in The Harder They Come. Perreira calls this line the most reflective of her artistic ars poetica to date.
A Class of Their Own
This heighted combination of fine hand craftsmanship, artistic designs, and the best of all available materials to work from in the history of mankind, has resulted in Barton Perreira's eyewear making an intense and sudden impact on Hollywood, fashion, and the world beyond. Their eyewear is preferred by Hollywood film and fashion icons such as Angelina Jolie, Brad Pitt, Samuel Jackson, Rachel Zoe, Heidi Klum, Jessica Biel, Orlando Bloom, Ryan Gosling, Nikki Minaj and, of course, Chloë Sevigny and Giovanni Ribisi.
Related articles across the web