© Andresr | Dreamstime.com – Woman Holding A Dollar Bill Photo
Daily Disposable Contact Lenses with the Best Value
There are a number of great daily disposable contact lenses on the market. These lenses range in price from the most cost efficient (and lowest quality) to the most expensive (and therefore highest quality). When it comes to the quality of lens material, I will always recommend the best product on the market. Working with the best increases the likelihood of patient comfort and therefore improves the success rates of a contact lens fit. Regardless, I do understand that cost is an issue when it comes to contact lens wear. Therefore, I have put together a short list of affordable daily contact lenses I recommend to patients who are a little bit more conscious of budget, but still want a high performing product.
1. Dailies® AquaComfort Plus® (Alcon)
These contact lenses have stood the test of time. They have been around for a few years and continue to provide great comfort and vision for many hours throughout the day. During a contact lens exam, I may start my first time daily disposable contact lens patients with this contact lens because its price point is comparable to monthly and biweekly replacement modalities, while still providing the improved comfort and convenience of a daily contact lens.
The AquaComfort Plus lens is available as a multifocal and toric (astigmatism) lens.
2. Proclear® 1 day (Cooper Vision)

The only lens cleared by the US FDA for the claim, "may provide improved comfort for contact lens wearers who experience mild discomfort or symptoms relating to dryness during lens wear."  Similar in price to the AquaComfort Plus, the Proclear 1 day is a great lens at a great price. Unfortunately this lens is not available in a toric prescription at this time.
3. 1-Day Acuvue® Moist® (Vistakon)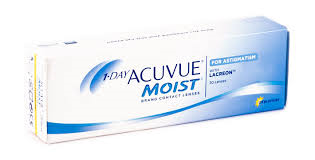 The 1-Day Moist has a slightly higher price point than the previously mentioned brands. This lens comes in two separate base curves which I absolutely love as a clinician. An ideal fit is often obtained with the steeper base curve, but the additional option of a slightly flatter base curve allows for adjustment when the 8.5mm lens fits a bit too tight. This change can lead to improved comfort for the wearer. The lens is also available as a toric and as a multifocal option.
Conclusion
All three of these contact lenses are great options for patients who want the added features (comfort, convenience and health) of daily contact lens wear without a drastic increase in price compared to other modalities. As always these lenses should only be worn under the supervision of your eye doctor.
Recommended Articles for You:
Best Daily Contact Lens – 2016
Best Daily Contact Lens – 2014
Best Contact Lens Modality for Dry Eye
Related articles across the web