"Smiling Eyes": The Brilliant Eyewear of Caroline Abram
When asked what most inspires her eyewear collections, Abrams explained it as an intense love for creating, "making things," as she calls it, and color: "My pleasure . . . my everything, is about making—anything I can put together –I love ceramics, to work on wood — -even putting together Ikea."
We can see that love for craft and different use of mediums and her love for color in her artistic approach to eyewear, which draws on a multitude of materials—Swarovski crystals, wood, ceramics and natural stones. Her love for color and her inspiration for different color combinations, she explains, is inspired by the women of her childhood in Dakar, Senegal, who hand make the beaded and glass chains and cases for her eyewear accessory company, Filao (which will soon merge with her eyewear company to become Caroline Abram Eyewear and Fashion Accessories). "I spent my childhood in Senegal" says Abram, "and living there helped me so much with my work because the women there are always mixing colours – yellow, blue, red– anything they put together works. They have a real sense of colour, and they know what they are doing."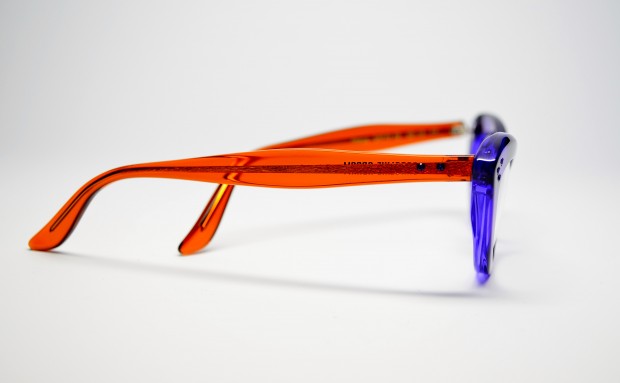 It is obvious Abram loves to experiment with complimentary colors on the color wheel. Her frames and earpieces are often two very different colors — colors one would not think to necessarily combine—that actually work, such as bright purple with a blue-toned red, or lime green with cerulean blue.
Eyewear that Smiles
Her overriding theme is joy and freshness—explaining I want "happy frames, fresh and alive" like her cat eye glasses, which she describes as "cat eye with a sense of humor."
Of her career in eyewear, Abram explains, "I was looking at the eyewear in stores and I didn't want mine to look like anyone else's designs . . . So I created my own collection. That was six years ago and the only shape I was making was a cat's eye, but years ago no one had cat's eyes and now they're in every collection."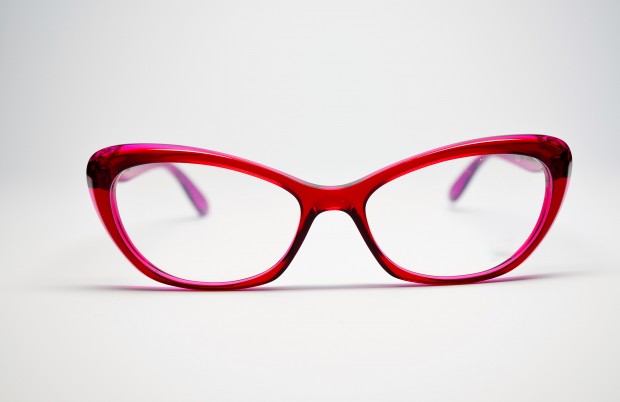 "Oh Contraire" Eyewear
Abrams describes the woman that is her muse as the girl who wants everything and nothing—"in French we call it 'contraire.' She is independent and funny in everything that she does – perhaps a bit stubborn too. The designs include all the characteristics of women—with no age barrier . . . [and] personality without exaggeration."
This desire to evoke joy in her eyewear is also, smartly focused on "happy lines" — a unique approach to designing women's eyewear that focuses upon hiding those, as Abrams says, "lines on the face a woman doesn't want noticed, like the line underneath the nose or the eyebrows that go down." Her frames are designed to put these areas under cover and "give the face a lift . . . to create 'happy lines.'"
Embracing the Past
Her glasses often have a retro vibe as well, as she calls some of her other important influences as "the sixties and vintage trends"—She and her mother are addicted to thrift store shopping and enjoy the quest and glory of finding treasures from the 50s, 60s, and 70s.
Award Winning Collections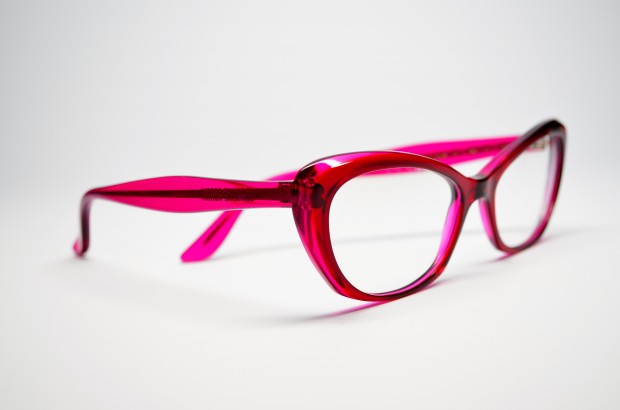 Her inspired approach to eyewear has not gone unnoticed. She won her second major award for her collection Caroline Abram, winning the very prestigious Silmo D'Or in 2008. Today, Abram is one of the biggest names in eyewear. For a woman who began her career as an optometrist at her family's office and whose mother runs the impressive Les Createurs d'Opta in Paris, an obsession with eyes and eyewear seemed destined. In the mere six years she 's been in business, she's become a world-wide name whose eyewear, exclusively made in France, is now shipped all over the globe. Always ahead of the curve, even in playful retro designs, many of Abrams frames evoke the glamour of the 50s and 60s made whimsical with an imaginative use of color– a hint of Jackie O., James Dean, and Natalie Wood a la "Holly Go Lightly." Her unique blend of inspirations and many interests, work together to infuse her highly distinctive, truly unique designs.
Related articles across the web