Water, Light, Color, Music:  The Inspired Optics of Barton Perreira Eyewear
Bill Barton and Patty Perreira, the dynamic duo behind the Barton Perreira line, have stepped away from mass-market eyewear to create their own line, Barton Perreira, a highly artistic and carefully crafted line of eyewear, where they can truly let their genius shine. In an interview with Caroline Tell, Barton explained his departure from Oliver Peoples as one of a desire for regaining self-expression "I needed to have more independence and freedom in design . . . In an industry that's controlled by one or two really big companies, we wanted to have really special product . . . We couldn't come out and be Oliver Peoples again; we had to have our own ideas. We had to be our own brand with product that people would look at and say, 'That's really fresh.'"
The Beginning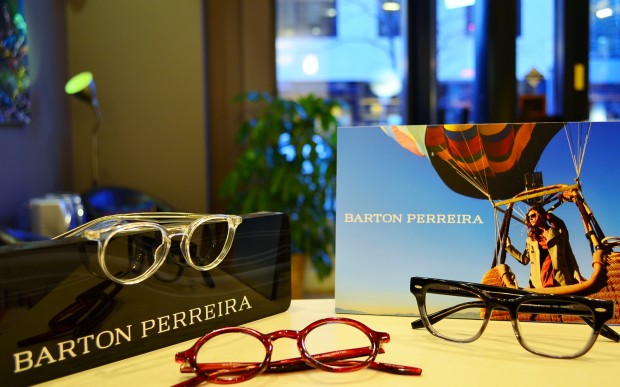 Launched in 2007, the Los Angeles-based brand rapidly expanded into local and international markets and became known for its focus on high style, meticulous craftsmanship, commitment to innovation, and the superior materials that go into making each individual pair. Although the company is based in Los Angeles, all of their frames and lenses are hand crafted in Japan, as the Perreira team believes that only in Japan can they receive the kind of intricacy and meticulous attention to detail that they seek. The Japanese combine ancient techniques with innovation to create the finest glasses in the world.
The Ingredients for Success
The Perreira team uses only the finest acetate with the highest cotton content possible to mold their frames. While mass-market frames take minutes to mold, each frame Perreira creates take four weeks. This long curing process, used by no other eyewear manufacturer in the world, creates seamless frames with a highly unique feature — the wearer cannot distinguish where earpiece meets the front of the frame. Their patented titanium core wiring contributes to glasses that fit as well as your favorite, broken-in, fit-like-a-hug pair of jeans. They are that fluidly designed.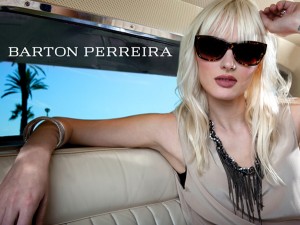 Perreira's plastic sunglass frames are superiorly constructed as well. Of their quality, Perreira explains, "The plastic that we use is called "zyl," short for zylonite. The qualities of zyl make it the best resin based polymer plastic material for luxury eyewear. It is lightweight, durable [and] maintains a deep gloss. All of our zyl is tumbled for days and then hand polished twice by Japanese craftsmen in order to create a seamless, high-polish and smooth material." Some very intricate frames, such as the Valeria and Swinger are hand painted by Japanese artists. Their lenses, even for sunglasses, are made of the same high quality CR-39, 100% UV protective material that optician's use.
The Artist
While Barton is the business genius of the pair, Patty Perreira is the artistic genius. Her inspired language of retro/futuristic style, combined with a highly artistic sensibility that absorbs inspiration from all she sees, results in a constantly new infusion of ideas for new lines and eyewear creations. Some of her other inspirations, she admits, come from art, fashions of the past, celebrity styles of the past, fine works of art, art deco, music, the Beat Generation, and the rich jeweled tones found in the sea, especially the way light refracts on the water. Many of her designs were inspired by a Kenny Sharf painting titled "Swirly" that she has had in her collection many years. She is also inspired by Pop Art, especially the work of Andy Warhol. She also gets a lot of inspiration from nature, especially with colors for frames and lenses. Of her new focus on colored lenses and softly mirrored gold lenses she has explained, "I like a softer mirror that looks more like a reflection on the water."
Patty recently teamed with a Japanese lens maker to create a new palette of colored lenses. Her new ultramarine lenses were inspired by the blues created when sunlight hits a coral reef in just the right way. Her "Sunset Serenade" lenses are reminiscent of the hues of grey and orange fading into one another at the apex of a sunset. Her breathtaking "Lover's Rock" lenses meld hues of midnight blue, amethyst, and lavender, all gracefully graduating into one another. Their highly popular Smith Sunglasses have lenses that graduate from the faintest hint of emerald green, to a deep sapphire blue, to turquoise, then lavender, then a deep purple– the result, the most crowd-stopping lenses on the market today.
Patty's highly artistic imagination and insistence on the utmost in craftsmanship has resulted in a superior line of eyewear that looks good on any face shape.  She is constantly redefining the brand and identity of Barton Perreira and never stops working to discover new inspirations for their constantly evolving eyewear collections.