Scrupulous Craftsmanship, Stunning Creativity, and Color Theory: The Artistry Behind Lafont Eyewear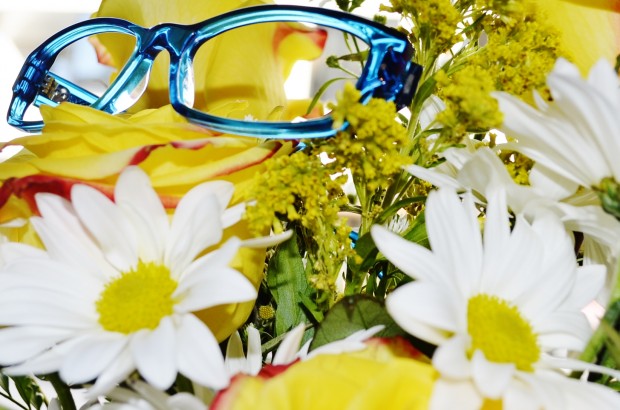 "A frame is a frame, but the color is what
makes the true difference." — Lafont
The studious pondering of sketches that are revised and then revised again, the layering of precious metals and acetates, the mixing and blending of colors until they perfectly suit the frame style and refract the light just so, until perfection of concept and design is achieved — in short, the most remarkable display of craftsmanship possible, is what goes into each and every pair of Lafont's meticulously created pair of glasses.
Lafont is known for their insistence upon a flawless artistic performance in eyewear with each pair of glasses they make.  Their eyewear is still designed and made in Morbier, Paris by a small team of four, including great  eyewear.  What started as one small boutique in Paris opened by Louis Lafont in 1927 is now shipped to millions of eyewear boutiques worldwide.  The entire Lafont Paris collection is still made in France in the same town of Morbier, where the first boutique was opened in 1927.
Lafont frames are handcrafted out of the finest metals and acetate, which is made of natural elements such as wood and cotton fibers and is one of the highest-rated hypo-allergenics in the world.  Acetate is far superior to the kind of injection-molded plastic frames you'll find at eyewear super-stores in that it is a much softer material that is able to take on advanced color treatments and absorb more shades and hues within the color spectrum than any other material.
Lafont releases only 70 new models a year, and that is because manufacturing one acetate frame consists of 150 individual steps and takes 8 weeks to finalize, while one pair of acetate and metal frames (only stainless steel and titanium are used) consists of some 200 steps and 16 weeks of production time.
A Truly Family-Owned, Independent Line of Eyewear

With Lafont's unique lines of eyewear, you are far from mass-market brand names and firmly in the realm of a reliable independent line.  The Lafont brand was created in 1923 by Louis Lafont, when he began selling eyeglasses and hearing aids at a small boutique on the Rue Vignon, in the Madeline District of Paris. Today, Lafont is still family owned, placing them in complete control over the craftsmanship and creation of every pair of glasses.
Lafont's eyewear first became popularized in the 1970s when Louis' grandson, Phillipe Lafont, married Parisian designer of textiles and fashions, Laurence.  The culmination of these two talents helped to firmly establish Lafont's brand and their frame designs became the toast of Paris and then the world.  News of these finely crafted frames soon spread near and far. Soon, the pair began working with major fashion houses such as Hermes and Chanel, and today is partnering to create beautiful eyes with Clinique.
Thomas Lafont, son of Phillipe and Laurence, is now chief designer of Lafont, and he hand sketches each design before it goes into production.  During an interview for Vision Magazine in 2009, Thomas explained, "We are one of the oldest companies in designer eyewear and are very proud of our heritage and traditions.  When you look at what was done fifty years ago, it is amazing what kind of detail they have put into the frames" [and]  . . . "we take care to keep the tradition of French frame-making" combined with "the French know-how from the Jura region " Along with staying abreast of current fashion trends, the Lafonts have a large collection of historic eyewear from all over the world which helps inspire their lines as well, especially their Reedition line, Lafont's collection inspired by vintage eyewear.
The Lafont Paris Line:  Inspired by the Eiffel Tower and Other Parisian Architecture
Thomas has stated that the muse behind every design comes from the family's fascination with color, fashion, and the "city of light," Paris. In the Lafont Paris line, you can see the influence of Paris architure, in their filigreed, lacey frames and the cutouts in their stainless steel frames. The Paris line titanium frames are reminiscent of French gates and definitely the Empire State Building.
An Obsession with Color and Perfection
For Thomas, the design aesthetic involves both honoring the Lafont tradition of excellence in craftsmanship and insistence on precious materials, while being open to new fashion trends to keep the brand fresh and current. "We attend the fabric shows every year," Tomas explains, "to see the upcoming trends in pattern, colour, and texture.  We build on that and are able to take our newest creations, which are closely aligned with prêt-à-porter and haute couture, to the major optical shows and know they are right on target.  Every aspect of our eyewear is designed in-house."
Over 200 colors, over 80 percent of the colors Lafont uses, are completely invented and patented by them.  They create these unique Lafont's colors through a complex layering succession of sixty processes.  They then study the created color in every shade of light from dawn, to dusk, to dark. They study the way the frames absorb and reflect light onto the face, the way the glasses look in every kind of light, sometimes combining more white with a sky blue titanium pair for example, to make the light gleam off of them in just the right way, creating a stunning, sparkling effect like rays off of the sun.
During the long process from sketch to showcase that goes on before the release of each optical design, the Lafonts experiment with a full spectrum of color on each frame, perhaps adding open filigree work here, or a Swarovski crystal there, perhaps adding a layer of white frost acetate in to lighten a blue just a minuscule amount —  until they feel that the design has reached its true apex of artistic creation.
All over the world, the name Lafont is synonymous with luxury, class, high Parisian fashion, a rebellious, avant-garde sense of spirit, an adventurous use of color, and the extreme quality if their eyewear.  Lafont's reputation is one well above the highest standard. Buying a pair of Lafont's is most like treating yourself to an exceptionally rare gemstone.  They are that precious — that exquisite, and even surprisingly low in price for such a treasure.
Recommended for You:
The Inspired Optics of Barton Perreira Eyewear
Sophisticatedly Simple, The Avant-Garde of ic! berlin Eyewear
Related articles across the web