Best Contact Lenses for Dry Eye 2014: The Bausch + Lomb Ultra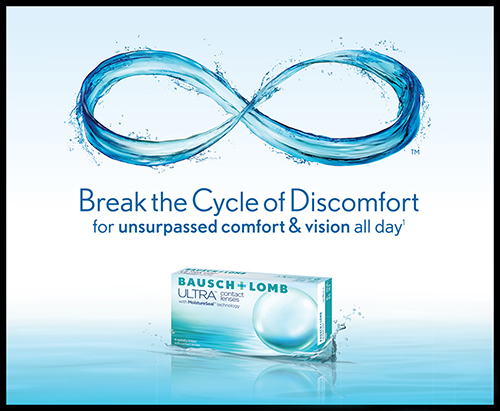 In 2014 Bausch + Lomb added a major player to the soft contact lens market. The Bausch + Lomb Ultra monthly replacement contact lens.
What Makes this Contact Lens Great?
Bausch + Lomb Opinion
Bausch + Lomb attributes the improved comfort to their recently developed MoistureSeal technology. This feature is designed to retain moisture for up to 16 hours of wear, making it an ideal lens for contact lens wearers who stretch the functional limit of their contact lenses.
Our Patients Opinion
They can't feel it on their eye! Contact lens companies have a new marketing campaign for every lens that hits the market. They advertise improved breathability and added moisture retention with a number of technological reasons. All of that technology talk is great but it means nothing if the lens doesn't perform as advertised. We have been fitting the lens for almost two years now and our patients continue to remark on it's incredible comfort.
Bausch + Lomb Ultra Availability
When this lens first came out we were one of a limited number of Contact Lens Practices to be offered a fit set. Optique of Denver is proud to be one of those chosen practices and we look forward to working with our patients to improve their contact lens wear experience.
Featured Articles:
Best Daily Contacts for Dry Eye – Dailies Total One
3 Daily Contacts with the Best Value
Best Contact Lens Modality for Dry Eye
Featured Links:
Related articles across the web